Click to search or browse MIMS
---
Product slides
This section features concise product overviews created by the MIMS editorial team in a handy click-through slide format.
Each presentation outlines the product's mechanism of action, indications and dosing, safety information, and clinical efficacy data. Click through to enhance your own learning or share with your colleagues in clinical meetings.
Check back regularly to see more slide sets as they appear.
Slides are initiated, funded and reviewed by the companies specified.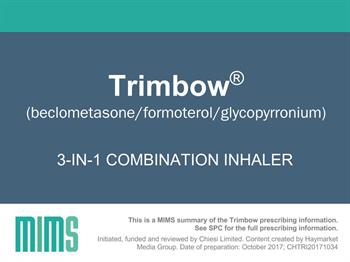 MIMSconnect
Initiated, funded and reviewed by Chiesi Limited. Date of preparation: October 2017; CHTRI20171034
Register or Subscribe to MIMS
GPs can access MIMS print & online and GPonline for free when they register online – take 2 minutes, and make sure you get your free MIMS access! If you're not a GP, you can subscribe to MIMS for full access.