Click to search or browse MIMS
---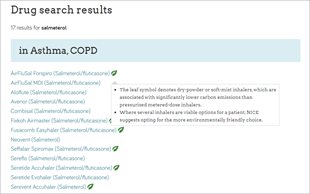 Healthcare professionals looking to prescribe lower-carbon inhalers will find these devices are now flagged with a leaf symbol on mims.co.uk, as well as in the print edition of MIMS.
Licence Changes & Product Updates
At-a-glance drug comparison charts including dosing and monitoring regimens, available presentations, prices, potential sensitisers and compatible devices.
Click here for full list of tables
MIMS bulletins
News and updates straight to your inbox.
Prescribing Update: Twice-weekly news bulletin
Alert: Urgent prescribing updates Clinics: Disease-themed monthly round-up
Prescribing news and resources for key therapeutic areas, collated by the MIMS editors.
This site is intended for UK healthcare professionals.