Click to search or browse MIMS
---
Seborrhoea, ichthyosis in the News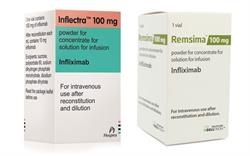 Remsima and Inflectra are the first biosimilar monoclonal antibodies to become available in the UK.
Although common, this condition can have significant psychosocial sequelae. Prompt diagnosis and engagement in long-term therapy are the keys to successful management. By Dr Mansi Rajpopat and Dr Anshoo Sahota
Prescribing news and resources for key therapeutic areas, collated by the MIMS editors.
Register or Subscribe to MIMS
GPs can get MIMS print & online and GPonline for free when they register online – take 2 minutes, and make sure you get your free MIMS access! If you're not a GP, you can subscribe to MIMS for full access.
MIMS bulletins
News and updates straight to your inbox.
Prescribing Update: Fortnightly news bulletin
Alert: Urgent prescribing updates
Spotlight: Disease-themed monthly round-up
MIMS Dermatology
Read the latest issue online exclusively on MIMS Learning.
MIMS Adviser
Especially created for prescribing influencers.
Mobile apps
MIMS: access the full drug database and quick-reference tables on the go
MIMS Diagnosis and Management: concise information on signs and symptoms, investigations and diseases