---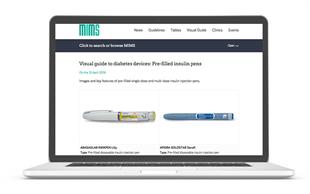 GPs and MIMS subscribers can now view images and key...
---
New and deleted products
Products added to MIMS
Products removed from MIMS
---
Latest CPD from MIMS Learning
---
---
Featured MIMS resources
Formulations and regimens of pediculicides and scabicides.
Diagnosis and treatment of high blood pressure, as recommended by NICE.
---
Patient fact sheets
Browse the MIMS patient fact sheet library and find printable patient information on topics from acne to yellow fever.
---
---
New products coming soon to MIMS
Check back soon to find MIMS listings for the following new drugs:
Darzalex (daratumumab)
Elocta (efmoroctocog alfa)
Fertavid (follitropin beta)
Idelvion (albutrepenonacog alfa)
Rixubis (nonacog gamma)
Uptravi (selexipag)
Zalviso (sufentanil)
---
Latest from MIMS Dermatology
Prescribing news and resources for key therapeutic areas, collated by the MIMS editors.
Register or Subscribe to MIMS
GPs can get MIMS print & online and GPonline for free when they register online – take 2 minutes, and make sure you get your free MIMS access! If you're not a GP, you can subscribe to MIMS for full access.
MIMS bulletins
News and updates straight to your inbox.
Prescribing Update: Fortnightly news bulletin
Alert: Urgent prescribing updates
Spotlight: Disease-themed monthly round-up
MIMS Dermatology
Read the latest issue online exclusively on MIMS.
Mobile apps
MIMS: access the full drug database and quick-reference tables on the go
MIMS Diagnosis and Management: concise information on signs and symptoms, investigations and diseases
Handy calculators and conversions for primary care.
This site is intended for healthcare professionals.